너무 맛있겠다~!!!
so yesterday, 120422 we (me, Ines, Aninda, Gian, Meifi, Abda, Nadia, Tyas, Fildza, Asti) were invited to come to Nindy's apartment said we'd get to eat some 김치볶음 (kimchi bokkeum-fried kimchi) so we came! lol i always wanted a taste of Korean food so bad. unfortunately i hadn't get any (except ramyun) until yesterday ●﹏●
so we met up at school and went to her apartment by taxi, but our taxi driver was soooooooooooooooo annoying ‷̗ↂ凸ↂ‴̖ idk, he kept talking and all making us dizzy and mad (we were supposed to keep in the taxi and wait for Nindy to come and go to Lotte Mart but we just couldn't stand that annoying driver). so we just went to her apartment instead.
thankfully Nindy's 언니 (eonni-older sister) let us ride in her car to the mart (yeay) and so we went thuurrrrr
arrived at Lotte Mart, i was kinda amazed (well this is how i am) because it has imported products. lol. and i saw the soda that MiHo in MGIAG likes! woohoo, so i with no hesitations bought that baby (。◕‿◕。)
we then headed to Korean food corner to buy some 김치 (kimchi). i might sound like the lamest person on earth but that was the first tima i saw the real kimchi ._. 미안해… so i was kinda excited. lol.
we also bought some 라면 (ramyeon-ramyun) and 쇠고기 (seogogi-beef). we changed our plan to make some 비빔밥 (bibimbap-korean mixed rice) and… idk, something like 삼겹살 (samgyupsal-grilled pork) with beef (not pork). so then we got some wrapper and more drinks. and i also got to eat 떡볶이 (tteokbokki) yeaayy. before we got home, we also bought some たこ焼き (takoyaki), お好み焼き (okonomiyaki) and 餃子 (gyoza). we sure bought a lot. and Nindy paid everything so i was just like 【•】_【•】 "really? is that really okay?" and she was like yeah…
so then we went to Nindy's apartment to get cooking and bought some 밥 (bap-rice) on the way.
so as the result of the cooking we made 비빔밥 and grilled all of the 쇠고기. and we also made 라면 so the tiny apartment was full of foods. whoaa 맛있겠다~ and it was! ah, i dont really know how to explain the taste though. because i was just happy eating it. and we got so much fun. there were 11 people there so we made so much mess. and i love it. i love being with my girls!! woohoo. here are the pictures of evidence ;)
well here's the already mixed 비빔밥
라면~ the soup happened to be too little -___- so we made the soup one more time
glorious… glorious. the sauce was made by Nindy and it tasted amazing!
pls excuse my face. but the wrap was extremely good. too bad i didn't bring my instax camera ಸ_ಸ
well yeah, that's it. idk what else to write so.. have a nice day!
안녕~ enjoy your food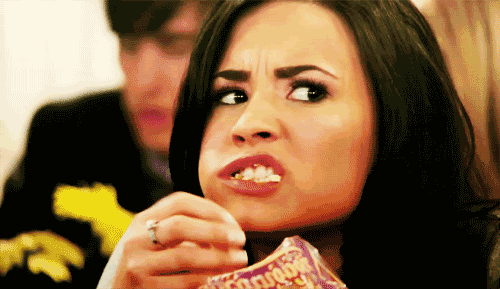 Rani